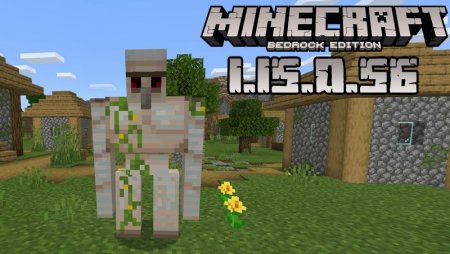 Minecraft for Android
Minecraft PE 1.15.0.56
Our website always publishes the freshest MCPE related news among the first, and today is one of the happy news day because Minecraft PE 1.15.0.56 with interesting fixes and changes was released.
Of course, since 1.15.0.56 is not a full game version, you will not be able to play in Realms and with MCPE users using non-beta versions, but anyway we guarantee you that it's worth trying because it brings a lot of helpful changes and removes some noticeable bugs and crashes in order to make your gameplay more comfortable.
Changes in Minecraft Bedrock 1.15.0.56
The MCPE developers removed several crashes occurring:
Whenever users interact with custom blocks
Whenever players use custom crafting recipes
Whenever players reload their games being in the water and using a water breathing potion
Whenever players reload their games being in the lava and using a fire resistance potion
Whenever players leave the game having an opened menu
Whenever players load level data
Whenever enchants are used during melee attacks
They also removed some less critical, but also annoying bugs occurring:
When players convert an MCPE world from consoles to Bedrock
When custom blocks are being broken (they just turned back at their initial state)
When moving Observer blocks (they did not get powered)
When using enchanted weapons (their effects did not apply)
When players change their armor (it was being displayed incorrectly)
When shearing sheep
When spruce trees generate
When saplings have to grow in trees (this process is prevented by leaves)
When the bone meal has to be collected by hoppers from composters that are placed above them
When using the Command Blocks' user interface
When trying to edit bee spawn eggs
When trying to use custom blocks in add-on packs
These are the most important fixes carried out in the present update. You can check them for yourselves by installing it, but first, let us warn you that before launching it, you should save the worlds you are working on in the present to avoid losing them.
We also recommend you to save the worlds created in 1.15.0.56 too, because you won't be able to access them with earlier Minecraft PE versions.
Watch the video trailer below to find out even more information about the present beta and make sure to share the good news with your friends. Your feedback on it is also welcome.
Don't hesitate to visit us as often as possible, because we are regularly publishing articles with download buttons on the coolest textures, maps, and mods, as well as on the newest game versions. Have a great time!
Video Trailer of Minecraft Bedrock 1.15.0.56
---
14 March, 2020