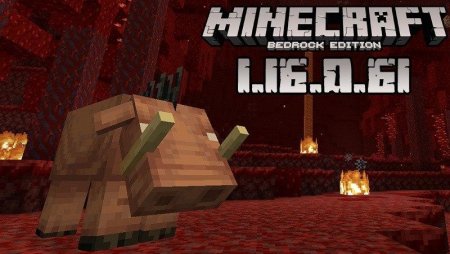 Minecraft for Android
Minecraft PE 1.16.0.61
Like we promised our subscribers, we will always publish the latest game updates among the first, and here is a brand new version for you to explore. Minecraft PE 1.16.0.61 brings a lot of valuable fixes and changes but we will focus on the most noticeable ones.
Before describing them, we must tell you that this is a beta, so Realms and non-beta players won't be accessible while you try it. If you intend to return to your actual builds after exploring the version we are talking about, we would suggest you to make copies of your worlds in order to avoid losing them.
Features of Minecraft Bedrock 1.16.0.61
Like always, the MCPE team worked hard on the game stability by removing a number of crashes that used to occur in different in-game situations, for example when the player used portals together with a pet or when he/she used the /kill and /fill commands.
In addition to the crashes, they fixed a lot of bugs and errors affecting the UI, the graphics, the mob behavior and textures, and the blocks. The most serious ones were related to the:
Enchanted items flickering
Input of the Korean and Chinese characters using a virtual keyboard
Text that extends over the sign borders
Inventory items that could not be chosen properly using touch control
A message letting the player know there is an error popping up when he/she is not connected to the network
Chunks flickering
Maps turning invisible in certain situations
Mushroom stems when being mined with silk touch tools
Redstone torches remaining either on or off each time the player reloads his/her world
Rendering of paintings
Rendering of beacon beams
Animation of flames on mobs and arrows
Animated textures
Firework particles
Parrots flying animation
Mobs which usually panic
Teleporting Armor Stands towards the player.
These and other changes can be checked by installing the present beta version. For this, use the button below the video, share the news with all your friends, and leave feedback.
Follow our website to discover a lot of Minecraft PE-related articles, including cool mods, beautiful textures, and interesting maps in addition to the game versions. Have a good time!
Video Trailer of MCPE 1.16.0.61
---
15 May, 2020