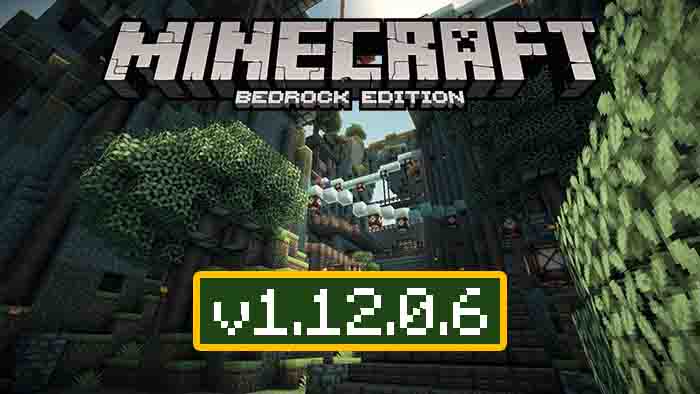 Minecraft for Android
Minecraft 1.12.0.6
The
Minecraft Pocket Edition
development team continues to actively develop
Minecraft 1.12.0
. Based on the list of changes to
Minecraft PE 1.12.0.6
, we can understand that the developers are already ready to release the Minecraft update soon.
Update Minecraft Pocket Edition
1.12.0.6
contains many different changes. There are a lot of fixed bugs in the MCPE 1.12.0.6 update. We recommend that you familiarize yourself with all the changes in the version of
Minecraft 1.12.0.6 on Android
. Below is the complete list of changes to Minecraft PE 1.12.0.6.
Here are a couple of points changes in
Minecraft PE 1.12.0.6
. This will be useful
map makers
and
add-on creators
:
Removed the 'byte order mark' at the beginning of function files if it exists
Updated ScriptHotbarContainerComponent's generateDocumentation function to say it checks the player's first hotbar item slot, not their third
Here is the list of changes to
Minecraft Bedrock Edition 1.12.0.6
. After studying this list you will understand what changes are waiting for you in the world of Minecraft 1.12.0.6!
Crashes/Performance
Fixed a crash that could occur when the game was checking for previously downloaded content 
Made further improvements to performance around new villages 
Fixed a crash that could sometimes occur when exiting the game on Windows 10 
Reduced the amount of memory required to load textures 
Fixed a crash that could occur when loading the game
Fixed a crash that could occur when throwing an Egg or Snowball 
Fixed a crash that could occur when flaming arrow entities were being loaded in 
Fixed a global resources crash on Android
Fixed a crash that could occur when trading with a Villager
Fixed a bug that would causing a performance drop when mobs produced splashing particles when entering water
Improved block occlusion performance
Improved performance related to chunk loading
Gameplay
The 'Iron Belly' achievement can be unlocked once again
Acacia planks can be crafted correctly once again
Village job site blocks now have consistent sound volume levels when used by players 
Players now consistently receive items when completing a trade with a Villager and using a controller 
The player paper doll model now moves correctly when the player is gliding with Elytra
Using Pickblock on sweet berry bushes now gives the player the correct item 
Fireworks now correctly boost Elytra flight if provided through /give or /setitem 
Bone meal is now consumed correctly when used on grass
Paintings can now be crafted from dyed wool
Players no longer lose villager job site locations if they replace a job site block that is tied to an experienced villager
Players can no longer lose or duplicate banner patterns when switching them in a loom with a full inventory
Cactus blocks of different growth stages can be smelted into green dye again
Fixed an issue with missing button icons in the How to Play section on Switch
Pressing controller Y on the Cartography output slot now only crafts the correct amount
Re-established a fix to keep legacy trades working the way they used to
Llamas now drop their leads if their Wandering Trader is killed
We hope that this article about
Minecraft Pocket Edition 1.12.0.6
was useful for you. We tried to tell you about the most interesting changes in this update.
All new versions of Minecraft PE for android you can download on
this page
.
Also do not forget that on our website you can find
add-ons
,
maps
,
texture packs
,
skins
,
seeds
and even
guides
.
Minecraft PE 1.12.0.6 for Android
Minecraft 1.12.0.6 release
---
29 May, 2019