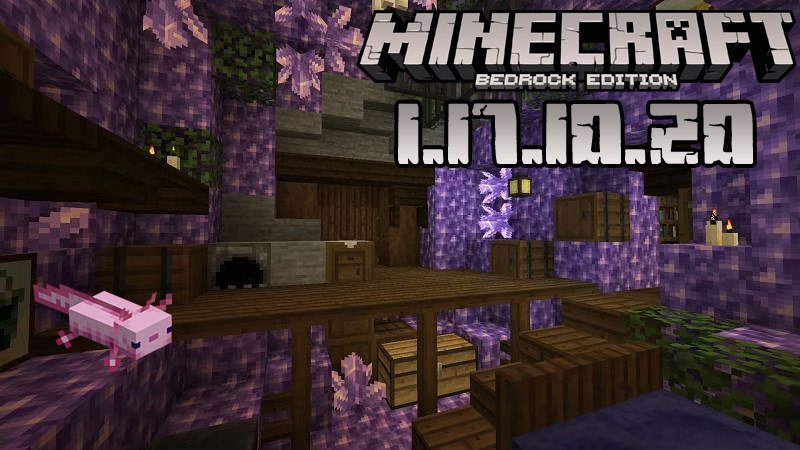 Minecraft for Android
Minecraft PE 1.17.10.20
Normally every player wants to be up to date with all his/her favorite game's updates. If your favorite one is Minecraft PE (we realize it is since you are reading this article), the best way to be informed about it is by following our website. The most recent version is Minecraft PE 1.17.10.20 and in this article, we will tell you everything about it.
New features in Minecraft Bedrock 1.17.10.20
Unfortunately this time we will not have the chance to meet new mobs or to explore new ores, blocks, etc. Instead, the developers carried out a lot of good changes. Some of them were done to make the MCPE game more similar to the Java edition. The most important changes are:
Modified frequency of thunderstorms
Modified size of axolotl's hitbox
Changed position of copper ores, glowing item frames, and deepslate in the player's inventory
The texture of rooted dirt blocks were made to rotate just like the one of the normal dirt
Added an Equip button allowing users to try on capes and skins in the Character Creator
Localized the reload button in the profile screen
Removed the ability of certain projectiles to cast shadows
The animation speed of data-driven blocks was modified
The skeletons were made to transform into strays much faster than before
The settings menu has a new accessibility icon
Besides these helpful changes, the MCPE developers also fixed the following problems:
Axolotls not lying still when pretending that they are dead (their tails move)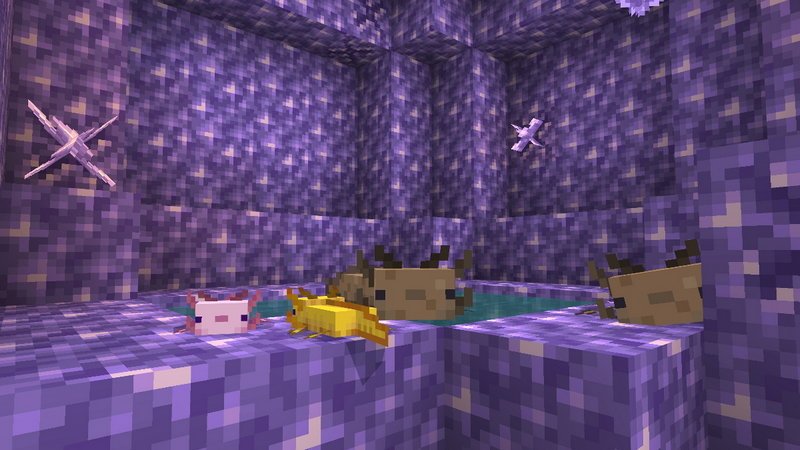 Axolotls not returning empty buckets after being fed with buckets of tropical fish. Instead, they used to return buckets with water.
Guardians refusing to attack axolotls as soon as they see them
Drowned refusing to attack axolotls as soon as they see them
Elder Guardians refusing to attack axolotls on sight
Impossibility to bonemeal azalea when it is placed on top of clay blocks
Pick block not working as it should on Azalea and Flowering azalea
Hanging root blocks unable to be waterlogged
Lightning rods breaking the blocks that fall on them
Command /title @p clear failing to clear the player's screen from the titles
Second players on split screen not being able to use anvils
Fireworks and stars obtained via /replaceitem command not working
Small dripleaves not dropping the correct items when sheared
Mobs on fire destroying powder snow even when mob griefing is not on
Dear friends, these are the most noticeable changes and fixes. The developers also carried out several technical updates, but they may interest mostly the addon creators and map makers.
We recommend you watch the video trailer below to find out more information about this beta.
If you are happy about the release and want your friends to enjoy it too, don't hesitate to share this article with them. We would also appreciate if you could let us know what you think about it by leaving feedback.
Continue following us and we will keep you informed about other upcoming versions. We will also let you try the most popular textures, maps, and mods for free. Enjoy your time!
Video of MCPE 1.17.10.20 
---
28 May, 2021