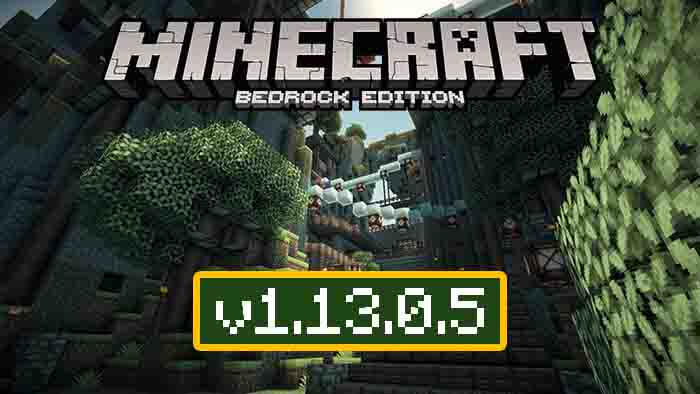 Minecraft for Android
Minecraft 1.13.0.5
The developers of the mobile version of Minecraft released the update
Minecraft Pocket Edition
1.13.0.5
. Update Minecraft 1.13.0.5 is available for players who have devices: Android, Windows 10 and Xbox One.
On this page, we published detailed information about the update
Minecraft Bedrock 1.13.0.5
, and also attached a link to the Minecraft 1.13.0.5 apk file. Unfortunately, on our website you can download the
game Minecraft 1.13.0.5
only on a device with
Android OS
support.
Below you can familiarize yourself with the full list of changes in the game
Minecraft Pocket Edition 1.13.0.5 for Android
. If you have any questions about the update
MCPE 1.13.0.5
- write in the comments!
What has changed in Minecraft PE 1.13.0.5?
Crashes/Performance

Fixed several crashes that could occur during gameplay 
Fixed a crash on Xbox One that could sometimes occur when signing out of an Xbox Live account
Fixed an issue that could sometimes result in the app not responding when loading on Android
Fixed a crash that could occur when interacting with custom entities
Fixed a crash that could sometimes occur after sleeping in a bed 
Applying a resource pack to a Realm no longer causes the game to freeze
Optimised game loading on Android devices, which also fixes the game sometimes showing an "App Not Responding" message when trying to launch the game

General

VR - When player goes to sleep and wakes up in immersion mode, the HUD is now positioned correctly, and axe animations work again
Tweaked Marketplace layout to prevent overlapping information
Controller mapping no longer show incorrectly as "unassigned" 

Gameplay

Armor, weapons, and tools are once again suggested in the recipe book
Mobs once again drop equipment as loot
Fixed an issue with breaking blocks when boarding a boat or holding a bow or crossbow
Mobs no longer drop fully repaired items as loot
End Gateway Portals will no longer generate on the main obsidian platform in the End
Arrows are no longer fired backwards when shooting at the ground
Leaves on trees no longer get cut off on chunk boundaries during terrain generation
Players can no longer push lit TNT entities
This was a complete list of changes, which was published on the
official Minecraft page
. As you can see, the
Minecraft Bedrock
developers have done a good job on this update
MCPE 1.13.0.5 beta
. On this page you can download the
update Minecraft Pocket Edition 1.13.0.5 beta
.
If you need add-ons for MCPE
1.13.0.5
, new textures or anything else for the mobile version of
Minecraft Bedrock
, you will find all this on this website. Our website has:
mods
,
maps
,
textures
,
seeds
,
skins
, and more!
Minecraft PE 1.13.0.5 for Android
Minecraft 1.13.0.5 release
---
8 August, 2019