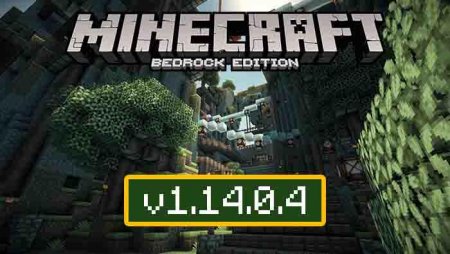 Minecraft for Android
Minecraft PE 1.14.0.4
Minecraft PE 1.14.0.4 on Android — the new version of Minecraft 1.14 beta is already available for player android devices. We recommend that you download Minecraft 1.14.0.4 on Android because In this update, new crafting recipes appeared. New krat recets have been added for items that were added in one of Minecraft version 1.14.0.

Below we have attached the Minecraft 1.14.0.4 apk file, which you can download for free. We hope that our website was useful to you. Leave a link to this page on social media. Let other Minecraft players also enjoy the update Minecraft Pocket Edition 1.14.0.4.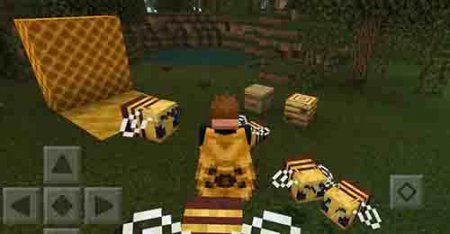 Changes in the Minecraft PE 1.14.0.4 beta
Crashes/Performance

Fixed several crashes that could occur during gameplay
Fixed a crash that could occur when opening the character creator with a custom skin selected

General

Fixed another issue that was causing player skins to revert to a default Alex or Steve after relaunching the game
Platform specific skins can now be seen in the Character Creator
Split-screen players now see the correct player avatars in the pause menu
Fixed an issue that was preventing the "Sail the 7 Seas" achievement from being unlocked on Xbox One
Fixed an issue with the screen reader option being enabled even after dismissal
Fixed an issue that was causing the player skin to take too long to load in 

Gameplay

The 'Body Guard' achievement can be unlocked once again

Items

The Honey bottle and Honeycomb textures now match those in Java Edition

Add-Ons and Script Engine

Fixed a bug that was causing tamed entity damage to be counted as coming from mounted players
Video review MCPE 1.14.0.4
If you want to download mods for
Minecraft 1.14.0.4
, then go to the section
add-ons
for MCPE - here are the best modifications for Minecraft for Android, Windows 10 and Xbox Van. To improve the graphics of Minecraft, you need to download improved
textures
.
Minecraft Pocket Edition 1.14.0.4
Minecraft PE 1.14.0.4 beta (Mod_1)
Minecraft PE 1.14.0.4 beta (Mod_2)
---
31 October, 2019