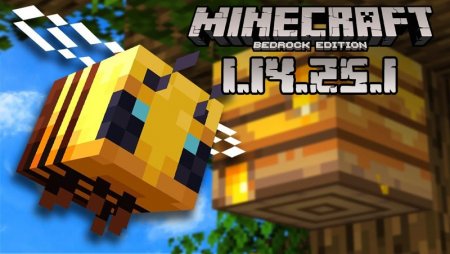 Minecraft for Android
Minecraft PE 1.14.25.1
Sundays are the best days to relax and explore a new game version. Last week we had no updates, the freshest beta being Minecraft PE 1.14.2.51 released at the beginning of 2020. Well, to compensate for this lack, we are giving you the chance to try the new Minecraft PE 1.14.25.1 beta and we hope it will not let you down. 
New version of Minecraft Bedrock 1.14.25.1
This time, the MCPE developers worked mainly on fixing a list of detected crashes and other errors.
The crashes that had to be removed were, as always, occurring during the gameplay plus a couple occurring when spawning in items and when searching the Marketplace.
Other fixed problems:
Wolves not being able to walk in the direction of each other when breeding
The tooltip of the honey bottle being incorrect
The wrong front texture of the beehives and bee nests in case they were being installed by the setblock command
Breakage of the detect command use when specifying an execute command
Tamed parrots having an incorrect position on the player's shoulder
Transparent blocks preventing mobs from spawning on the same Y axes (note: this fix leads to an error fixed in the previous version so all we have to do is wait for the correction of both of them)
Limbo split-screen state occurring when a split-screen user joins the game and the other one leaves it simultaneously.
Now that you know what to expect from Minecraft Bedrock 1.14.25.1, you can share this article with your friends letting them know about the new beta and click on the download button yourself.
To always find out about the latest game versions on time, follow our website. Here you will also find a lot of interesting maps to explore and play at, cool mods to improve your MCPE worlds and its features and many other articles with download buttons.
Have a nice and smooth gameplay!
Video of Minecraft 1.14.25.1
---
26 January, 2020