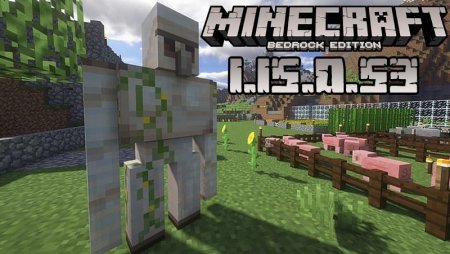 Minecraft for Android
Minecraft PE 1.15.0.53
We know that a long and busy working week is waiting for you ahead, but we hope you will find some spare time to explore Minecraft PE 1.15.0.53, the newest game beta. The developers did a really great job this time but introducing some useful tweaks, changes, and by fixing the most noticeable bugs and crashes.
What's new in Minecraft Bedrock 1.15.0.53
The MCPE developers fixed the crashes and bugs occurring in the following situations:
During the gameplay
When trying to read more in the screens of some resource packs
When breaking a Shulker Box
When opening a Shulker Box
When dispensing bone meals into grass blocks
When fire spreads over beehives
When text is read by the narrator on Xbox One
When casting a fishing rod and running at the same time
When player wake up (the spawning point is wrong)
When blocks fall on retracted pistons
When flying with Elytra at a high speed.
When any mob enters a minecart
When trying on different hairstyles while wearing a wing costume in the Character Creator
When experimenting with the player's size in the Character Creator
These and other crash and bug fixes can be discovered by trying the present version. In addition to them, you will also discover some changes, mostly in relation to some mobs, some commands, and the game graphics.
To discover all the fixes and new features, hurry and hit the download button, install the version, invite your friends and if you have any suggestions, feel free to leave feedback.
But there is something we have to remind you before you start using Minecraft PE 1.15.0.53. This is a beta, like the previous one, Minecraft PE 1.14.30. This means that while trying it, you won't be able to access other players who use non-beta versions, as well as Realms. Also note that the builds created in this beta cannot be accessed using older versions and that the beta will replace all your existing MCPE work in progress, so, better make copies of your worlds in both cases.
To always be able to be among the first MCPE users who have the chance to download the latest game versions, follow our website. In addition to this, you can explore a lot of interesting maps, textures, and other cool Minecraft PE-related articles. Have a good time!
Video of Minecraft Bedrock 1.15.0.53
---
25 February, 2020