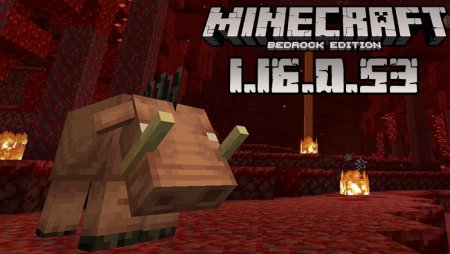 Minecraft for Android
Minecraft PE 1.16.0.53
Minecraft PE 1.16.0.53 represents the latest game beta, which brings us nearer the final, full version. This version contains a list of changes, most of them related to the removal of several serious issues.
Let us remind you that 1.16.0.53 is a successor of Minecraft PE 1.16.0, the version that finally updated the Nether in a much better way than we expected.
If you are an active Minecraft PE fan, you must know about the rules and features related to beta versions, but if you don't, we suggest you check any article on earlier game versions which are betas to understand what this implies.
And now, let us talk about the most important things: the version's features.
What`s new in Minecraft Bedrock 1.16.0.53
Of course, this time the developers detected more crashes and removed them. Thanks to this, our game will crash more rarely, but in addition to the crashes, they also detected a number of issues that had to be fixed too. These are:
Some documentation-related problems affecting the Bedrock Dedicated server
A problem preventing the Gear VR users from seeing the imported world templates
A problem preventing Chunks from loading properly when playing in Realms
Texture-related problems making the custom Alex skin look incorrect
A goal-related problem affecting villagers and not letting them work properly
Maps that were only created having a wrong zoom level
A problem affecting the maps that were converted through Editions
Texture-related problem making sheared sheep appear incorrectly
Several problems related to the enchantments
Some music disc names being displayed in a wrong language
Text introduced by the player not being visible through glass
A problem making the maps fixed in iron frames flash weirdly until they are fully loaded
A problem affecting the animation scale
A problem preventing the in-game geometry change when switching to a different one with a render controller
A problem affecting some selectors
The MCPE developers are always doing their job responsibly and timely, and they did the same this time when working on the present beta.
We suggest you watch the trailer before downloading 1.16.0.53 for finding out even more details about it.
If you are glad about the release of this beta version, share this article with all your MCPE friends and leave feedback.
For a wider and more interesting Minecraft experience, we recommend you to explore our website where you will find a lot of cool maps, mods and other articles with download buttons. Have fun!
Video of Minecraft PE 1.16.0.53
---
28 March, 2020