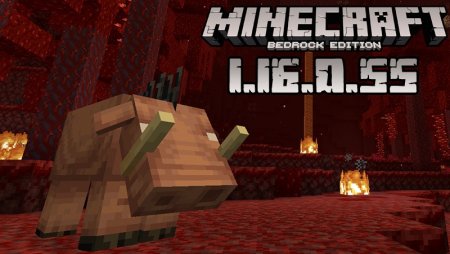 Minecraft for Android
Minecraft PE 1.16.0.55
Minecraft Bedrock 1.16.0.55 represents the third beta version of the Nether Update bringing a complex and useful list of updates and fixes.
This time, the MCPE developers had to fix even more crashes than in Minecraft PE 1.16.0.53 and a big percentage of the error fixes have been carried out in relation to the scripting and add-ons. In this article, we will discuss only the crashes and the rest of the error fixes, but if you are interested in the fixes done to the scripting problems, we suggest you watch the video trailer below the text.
Before getting to the list, we must tell you about an important aspect: Several thumbnails icons do not load properly from the Marketplace, but the developers are already working on this issue and promise to resolve it in one of the next game updates.
Main fixes in Minecraft Bedrock 1.16.0.55
Because the crashes are the most annoying problems that might occur in a player's experience, we will start with them:
Some crashes that were occurring during the gameplay (like always), were removed
A crash affecting only the iOS players when they were trying to create a new Minecraft world was removed
A crash occurring sometimes if a certain mob's state was changed was removed
A crash that used to occur every time the player entered the water in certain conditions was removed
A crash that used to occur in case particles were present while the player closed his Minecraft PE world was removed.
As you can see, the developers had to work more than usual on removing crashes, but this was worth it, because we won't get interrupted from our gameplay (at least not due to these crashes).
Of course, besides the crashes, these hard-working guys had to fix several less critical, but still annoying bugs. These are:
If a player found his/her death in the End or Nether, his/her screen used to twitch inexplicably
If the player uses a full keyboard while playing, his/her smooth camera option used to be jittery
When playing on servers, the lightening on some areas could show errors
After a block change, the light used to persist
Lightening not propagating normally through chunck and subchunk border lines
Chunks were not loading properly or even failed to load on big MCPE worlds
Players facing problems in collecting water from bubble columns
When casting a fishing rod, this used to get attached to the parrot sitting on the player's shoulder
In case the player holds a bone meal, he/she could not collect sweet berries
The player icons appearing as blank spots in locator maps
When the player uses a fire charge on TNT, the charger did not get consumed
When the button parts of a door were destroyed, the signs attached to it used to remain in a floating state
When creepers lose sight of their target, they used to immediately lose their agro too
The ghast's hitbox being offset in the Y-axis
Iron Golem's legs swinging too far
A "MelleeAttackGoal"-related bug not letting entities hit targets located between them
Water and glass could not be drawn correctly if located close to each other
The glint texture being incorrect when added to a compass
When the player removed items from the furnace, they used to glow green
All of these problems were fixed too and in addition to them, the ones we mentioned at the beginning of the article.
To try this beta game version, click on the download button, share the news with your MCPE friends and leave feedback.
Visit our website regularly to always be up to date with the freshest game versions and with a lot of new and popular texture packs, mods and other downloads that might interest you. Have fun!
Video Trailer of Minecraft Bedrock 1.16.0.55
---
5 April, 2020