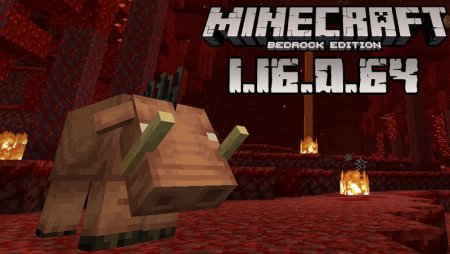 Minecraft for Android
Minecraft PE 1.16.0.64
Minecraft PE 1.16.0.63 brought us a lot of interesting changes and fixes related to the Nether and not only. Minecraft PE 1.16.0.64 contains fewer features, but as long as they make our MCPE experience better and our gameplay smoother, we are glad about its release.
New bugfixes in Minecraft Bedrock 1.16.0.64
Surprisingly, this time the MCPE developers detected no crashes, but this does not mean they had nothing to do regarding the present beta, and here are their actions:
They resolved a problem related to the chunks: when they were loaded, the entities located inside them used to lose their data
Resolved a problem with the access to the Dedicated Servers
Resolved the breeding problem of the cured zombie villagers
Resolved a problem regarding some Nether entities, blocks, structures generating in MCPE worlds which have a defined version
Resolved the problem of mobs who path find not pathfinding to the end
Resolved the problem related to rabbits that previously moved and hopped slower than they should
Resolved the texture-related problem of the blocks when seen from high above (for example, when the player uses elytra to fly)
In addition to the above-mentioned fixes, the developers also worked on improving the scripting engine.
If you want to find out more details about the current game update, we invite you to watch the video trailer below before clicking on the download button.
Please do not forget that Minecraft Bedrock 1.16.0.64 is not a full version, thus your access to Realms and to non-beta MCPE users will be impossible while trying it.
We must also warn you that you should save copies of your current worlds before installing the present beta if you don't want to lose them forever.
To always be up to date with the latest game versions, follow our website. Here you will also be able to check a lot of Minecraft PE maps, mods, and more for free. Have a good time!
Video Trailer of Minecraft 1.16.0.64
---
29 May, 2020