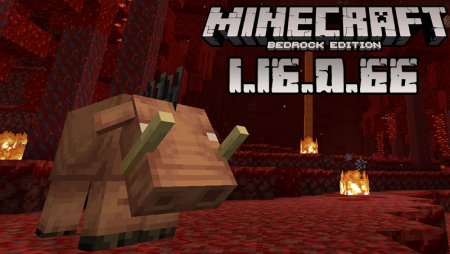 Minecraft for Android
Minecraft PE 1.16.0.66
Because the list of changes in Minecraft PE 1.16.0.64 was rather short, we believe you had enough time to explore and enjoy it, because the time to try a new one has come. Minecraft PE 1.16.0.66 is a beta released only today and it contains some important fixes, but most of them are related to the scripting engine and MCPE commands.
Because we know you don't want to lose a lot of time reading and want to try the new update as soon as possible, we will describe only the most noticeable changes, but in case you want to find out more details, we suggest you watch the video trailer below the present article.
Fixes in Minecraft Bedrock 1.16.0.66
Several crashes that used to happen at random times during the gameplay and a very annoying one happening each time the MCPE player used the mashed-up pack called Tropical City Resort to create a new world were removed
All the chests will generate with loot now
Starting with this beta, the projectiles will not be destroyed too soon in case they did not deal any damage
The graphical problems occurring when the player rides a mount were removed
The bug making the start-up to hang sometimes when opening a specific world was fixed
A bug affecting the teleporting process in a popular map was fixed
Command /xp now works as it should
A bug preventing mobs from deleting their goals when attempting to cancel all the goals was fixed
The /replaceitem command is more functional now
A bug occurring every time when the movement component is being canceled was resolved
Like we already told you, by watching the trailer below, you can find out more information about this update.
After watching it, you can click on the download button, but remember to back up your existing MCPE worlds first in order to avoid losing them.
If you want your friends to try this beta too, share this article with them, but mind that in case they prefer full game versions, you won't be able to play with them while trying Minecraft Bedrock 1.16.0.66. Access to Realms is also forbidden.
Visit our website regularly and you will always be up to date with the freshest game versions and with the most popular mods, maps, and other MCPE downloads. Have fun!  
Video Trailer of MCPE 1.16.0.66
---
5 June, 2020