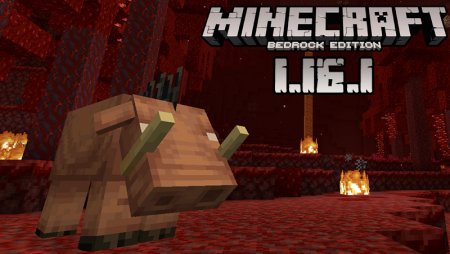 Minecraft for Android
Minecraft PE 1.16.1
Finally, we have the chance to try a full game version, play in Realms, and with our friends which also use full versions thanks to the hard-working MCPE developers. Even if Minecraft PE 1.16.20.50 beta released last week was a very complex update that even brought us a brand new mob, we are very glad about Minecraft PE 1.16.1 full version where our builds will be more stable and there will be less crashes and bugs.
Changes in Minecraft Bedrock 1.16.1.02
This time, there are no new features, but the developers worked hard on removing several serious crashes and bugs. They used to occur:
When throwing Netherite items into the fire or into the lava
When using controllers to hover over an item from the recipe book that cannot be crafted
When the player uses an emote to play and decides to suspend his/her game session
When the rest of the players use custom skins (for the PlayStation 4 users)
When using custom skins in multiplayer.
You will also notice that you won't be able to put on any emotes if they are not unlocked and that you will see the recipe ingredient's tooltip name when you hover over it with the controller.
To download Minecraft Bedrock 1.16.1.02, use the download button below the video, share the good news with all your MCPE friends and leave feedback.
By visiting our website on a regular basis, you will always be able to check the latest game versions among the first and to discover lots of cool mods, maps, and more. Have a good time!
Video of Minecraft PE 1.16.1
---
30 June, 2020