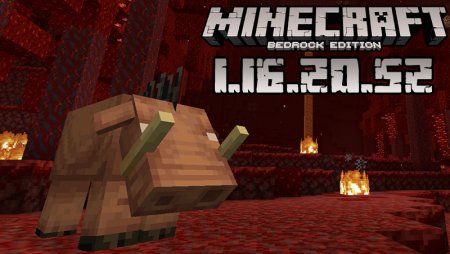 Minecraft for Android
Minecraft PE 1.16.20.52
At the end of June, the Mojang team released a long-awaited full version called Minecraft PE 1.16.1. If you managed to try it and want to go further, we invite you to check a fresh beta developed with a lot of attention regarding the players' requests about the detected crashes and bugs. This is Minecraft PE 1.16.20.52. 
Before getting to the fixes, let us remind you that while trying a beta version, you won't be able to play in Realms or with non-beta players. We would also like to prevent you that making copies of your existing worlds before installing a new version is always a good idea if you do not want to lose your work.
Fixes in Minecraft Bedrock 1.16.20.52
The developers along with the most loyal MCPE fans detected a number of errors that had to be resolved. Besides two crashes happening when trying to access the settings from the player's Profile in order to operate with the Manage Account option and when a PlayStation 4 player interacts with other players who use custom skins, a lot of other less serious problems had to be dealt with. They used to happen in the following situations:
When using pressure plates
When playing in split-screen mode (not being able to see the end crystals and enderdragon)
When many mobs trigger each other's anger endlessly in peaceful game mode
When trying to use field "rider_can_interact" on "minecraft:rideable"
When resuming the game after riding an entity (by the player or a mob)
When mobs should spawn underground
When using command selectors
When trying to access the Marketplace
When meeting all the requirements for certain achievements in case the user plays offline (they didn't get unlocked after reconnecting to the internet)
When using the /fill command
All these problems have been removed. In addition, the MCPE developers worked on fixing an error affecting only the iOS users. They complained that they did not get any notifications while playing.
If you want to find out more about Minecraft Bedrock 1.16.20.52, watch the video below.
When you are ready to try the new beta, press the download button, share the news with all your friends, and leave feedback.
Subscribe to our website and you will always be up to date not only with the latest game versions but also with the coolest mods, maps, and more. Enjoy your time!
Video of MCPE 1.16.20.52
---
14 July, 2020