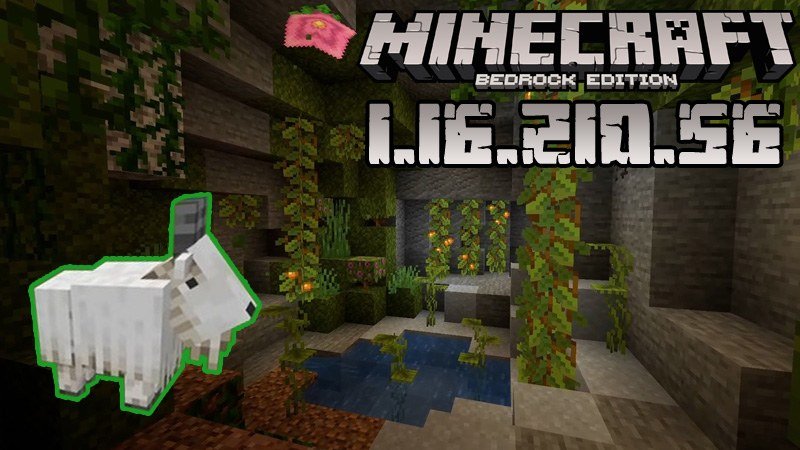 Minecraft for Android
Minecraft PE 1.16.210.56
Some of the Bedrock users were a little disappointed about Minecraft PE 1.16.210.55 released last week because it brought only three minor fixes. To make it up to all of the players, the Mojang team developed a better one for this week and this is Minecraft PE 1.16.210.56. The update brings a longer list of traditional fixes along with two absolutely awesome experimental features.
Features of Minecraft Bedrock 1.16.210.56
We know you are curious to find out about the new features before the traditional fixes, so we will start with them.
The Sculk Sensor is the first new experimental feature that you can try by enabling the "Experimental Features" toggle on your MCPE world. This sensor is meant to detect the vibrations triggered by motions on an area of eight blocks. For now, there is a limited number of motions that enable this sensor. Among them are stepping, swimming, hitting the ground, placing and/or destroying blocks, etc. In the near future, the developers promise to introduce more sculk stimulators. As soon as the sensor gets activated by vibration, it cannot detect other vibrations during its work, but this lasts only for forty game ticks, which is about two seconds.   
Dripstone Blocks. These unusual blocks can create stalagmites and stalactites because they look like cones and can be placed both on the floor and on the ceilings. When placed on ceilings, they hang with their tops downwards and have special animations of lava and water dripping. These blocks were developed not only to beautify our worlds. They can also be quite dangerous, both for the players and the mobs. When falling on such a block, the player/mob can get serious fall damage. When breaking the ceiling above a stalactite, it can fall on all the entities that stand underneath it causing serious damage. The dripstones can be found in the player's creative inventory.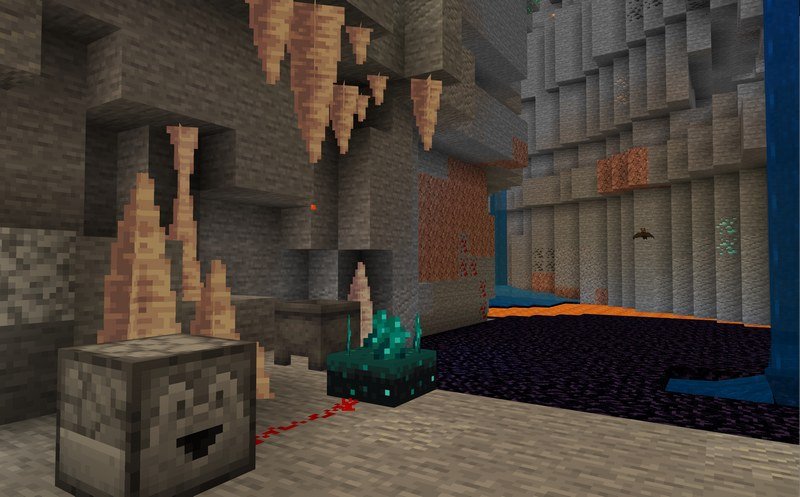 We know you can't wait to download the version and see these new features with your own eyes, but there are also the fixes we talked about at the beginning of the article, but we will tell you only about the most important ones.
This time, the MCPE developers fixed the next issues:
Game crashing when mcstructure files saved with entities were loaded into the Bedrock world
False block data of some Marketplace worlds when users play in Realms or multiplayer between a pc and a mobile
A number of bugs affecting the /setblock command
Players having the ability to place spawn eggs by default when playing in Adventure
Foxes not harvesting sweet berries
Problems unlocking the pork chop trophy and achievement
"Download Template" not downloading the required templates when clicked
Dear MCPE fans, if you want to know more details about this update, we recommend you to watch the video trailer below.
Before hitting the download button, we must remind you that you should make copies of your existing MCPE builds if you are planning to access them in the future. This should be done because the new beta will replace your work in progress and you can lose everything you worked on this way.
If you are happy about this release, be generous and share the news with all your friends, and leave feedback.
Follow our website and you will also be up to date not only with the freshest game versions but also with a lot of new texture packs, mods, etc. Enjoy your time!
Video of MCPE 1.16.210.56
---
22 January, 2021