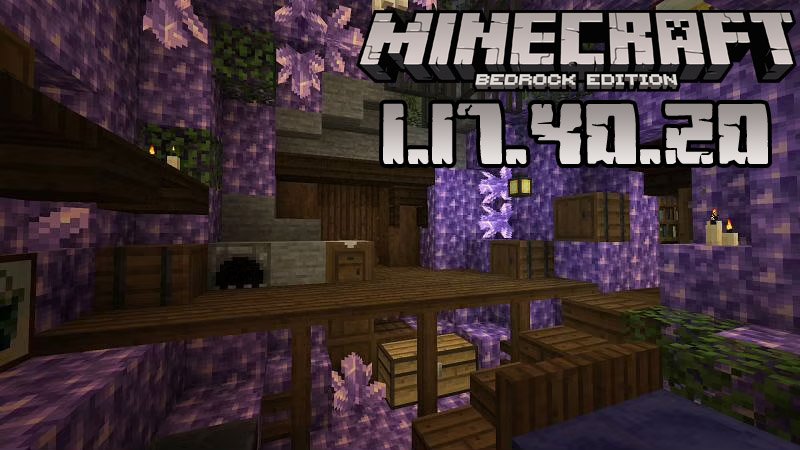 Minecraft for Android
Minecraft PE 1.17.40.20
After the release of Minecraft PE 1.17.30.25 which was very modest by size – to put it mildly, the game developers decided to make it up to us and released a much better beta containing many fixes, technical updates, changes, and even a brand new biome, so let us welcome Minecraft PE 1.17.40.20!
Changelog in Minecraft Bedrock 1.17.40.20
First, we will enlist the issues that have been successfully resolved. These were:
Incorrect vegetation in mountain meadow biomes
Dripstone features generating in other places than the dripstone biome
All mountain biomes and sub-biomes having incorrect feature places, this being a parity issue
Ore distribution not matching the one in the Java edition
Mob spawning in mountains and in caves not matching with the Java edition
 Dripstones and deepslates not generating below y=0
Wrong placement logic of small dripstone features
Maps not loading the terrain below y=0
Vines generating only underground while they should generate above the ground too
Villagers not generating in accordance to their biome
Falling stalactites becoming offset after falling
Beehives generating facing different direction while they should all face south
Button "use" not working as intended when applied on candle cakes
Game crashing when using the Character Creator
Default Steve's skin being nameless and unselectable while the "Steve skin" color is different
Players getting a wrong message when someone changes his/her skin in the Character Creator
Chalkboard appearing as an option when using commands with @e with [type=]
Players taking fire damage when using a nether portal that has lava underneath it
Players continuing eating even when their hunger bars are full
Sea grass generating under lily pads during world generation and breaking them
Villagers constantly opening and closing doors
Cartographers constantly giving maps
Amethyst geodes generating inside strongholds and destroying end portals
Players being able to see the sky even if they are deep underground, for example in cave labyrinths
Mobs failing to pathfind when on top of lily pads or other partial blocks
Mobs that usually wear armor not showing it correctly
Vindicator's arms being folded and its axe not being visible
Powder snow becoming invisible when the player is far from it
Trapdoors keeping their original orientation when  creating new maps with structure blocks
Broken Game and Multiplayer option navigations in the settings menu
An error message popping up when trying to exist the Achievement Details screen
Sign in text overlapping the marketplace button on the start screen
In addition to these bugs, the MCPE developers also fixed a big number of technical errors.
And now, let's find out about the changes. Starting with this version, you will be able to enjoy:
A gravel-covered mountain biome called the Stony Peaks (see picture below)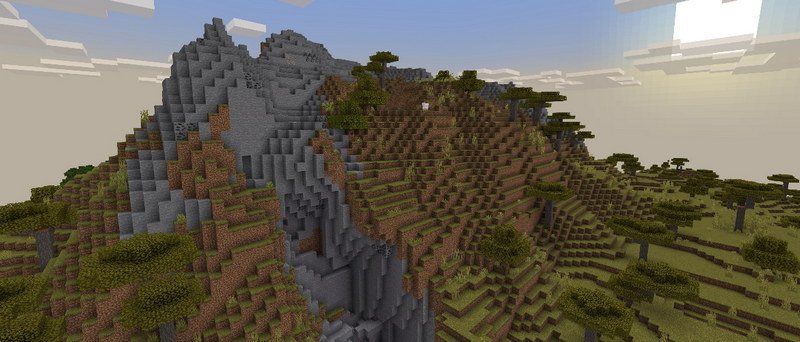 New mountains having infested stone generating underneath them
Clouds generating at y level 192
Reshaped terrains, rivers, and biome placements
Trees generating deeper in the water
More underground-spawning mobs in the Overworld
A new "More Info" button to the failed sign-in modal
A new achievements screen (only for the Windows 10 ARM-based computers)
If you are happy about this release and all the good changes it brought, tell your friends about it too and leave feedback.
If you made the choice to follow our website, we will always keep you informed about all the newest MCPE versions, mods, maps, and other surprises that will make your gaming experience even better. Enjoy your time!
Trailer Clip of Minecraft Bedrock 1.17.40.20
---
19 September, 2021