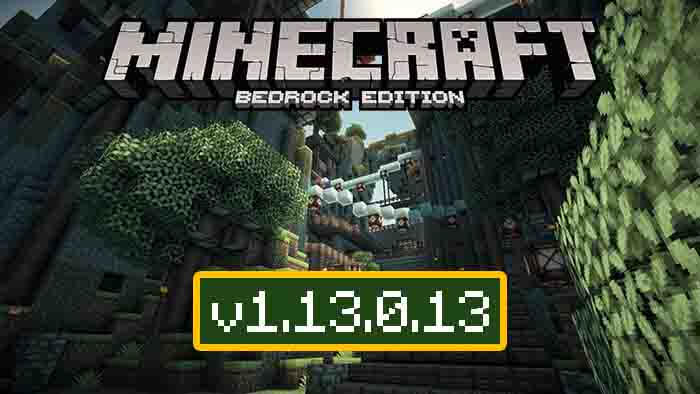 Minecraft for Android
Minecraft 1.13.0.13
The
developers
of the mobile version of
Minecraft
have released the
Minecraft update 1.13.0.13
for android devices. In this version of the game, a huge number of bugs and errors that badly affected the gameplay were eliminated. We hope that with the release of this update, the developers have
fixed all those errors
that prevented us from enjoying the gameplay.
If you find any serious bugs in the game, inform the
Minecraft Bedrock developers
at
this link
. You can also write about the bugs found in the comments below, and we will send these messages to the developers of Bedrock Edition!
Below you can find the full list of changes in
Minecraft Pocket Edition 1.13.0.13
!
Fixes Minecraft Bedcrock 1.13.0.13
Crashes/Performance

Fixed several crashes that could occur during gameplay
Improved performance with animation optimisations
The game no longer crashes while typing out the execute command
Devices with lower available memory now support the new Note Block sounds 
Fixed a crash that could sometimes occur when a player leaves a multiplayer game 
Fixed a crash that could occur if a player tried to open chat just as they were leaving a multiplayer game
Light blocks with invalid auxiliary values no longer cause the game to crash
Improved chunk loading performance when flying 

General

Added a new prompt to suggest that a player adjusts the screen safe zone, if necessary 
Fixed an issue where the main menu UI would not load in for some beta players on Xbox One
Buried treasure chests can no longer spawn inside Village structures
Fixed an issue that could cause some worlds to become corrupted during gameplay

Gameplay

Jumping while swimming in a 1-block high tunnel no longer causes player to get stuck 
The player can once again open the inventory correctly when sitting in a boat 
Parity: Releasing sneak on the edge of a block will no longer make the player fall
Nearby players on locator maps are no longer shown as a blank square
Arrows hitting players underwater no longer play multiple hit sounds
Achievements related to eating food are now unlocking correctly again
Items can be repaired using their base materials on an Anvil again

Mobs

Farmers now correctly harvest crops when their inventory is not full
Turtles and Tropical Fish no longer drift downwards and swim at the bottom of the sea
Villagers now hide more consistently during a raid

User Interface

Fixed the spacing between "Feedback" and "Save & Quit" buttons in the pause menu

Graphical

Fixed the position of Parrots sitting on the player's shoulder

Commands

Using the command '@s[type=...]' will now work correctly
Obfuscated text now works with the smooth font chat setting

Add-Ons and Script Engine

Using "lock_rider_rotation" now works correctly on players
Using "yaw_speed" calculation now works correctly
Custom entities now get proper death messages
On this page, we published the main changes to the update
Minecraft Bedrock Update 1.13.0.13
. Recall that in the previous version of
Minecraft PE 1.13.0.9
, the servers were not working. In this version of the game, this error was not fixed. But, especially for you, we published the apk file
Minecraft 1.13.0.13 for Android
with working servers.
Click on the following links to download various add-ons for MCPE 1.13.0.13:
mods
,
maps
,
textures
,
skins
. Also, if you want to generate a world with unique terrain, then use
seeds
!
Minecraft PE 1.13.0.13 for Android
Minecraft 1.13.0.13 beta
---
15 September, 2019