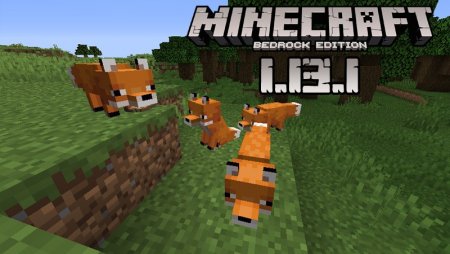 Minecraft for Android
Minecraft 1.13.1
In our previous article, that is Minecraft 1.13 and 1.13.1, we mainly talked about the first one. The version's main surprise was the development of the Character Creator, which we consider is a very important step in the game's evolution. Unfortunately, while working with it, the developers detected some issues and thus they released Minecraft PE 1.13.1 with their fixes. We must note that the coolest mods, maps, and seeds featured on our website are compatible with this version.
Fixes in Minecraft PE 1.13.1
Like we already mentioned, this version is mainly concentrated on the problem fixes related to the Character Creator: 
Players getting blocked while skins are loading was fixed

The problem preventing MCPE users from equipping the founder's cape to imported skins was fixed

Elytra not being displayed properly when the player uses any custom imported skin was fixed 

While playing in multiplayer mode, the users will not have to share the same skins now
Besides the Character Creator issues, the developers also worked on several crashes that could occur when trying to join Featured Servers or Realms, as well as more crashes possibly occurring at different gameplay stages. 
Also, you might notice that the chests are not invisible sometimes like they were displayed before, the language settings are improved and that you can use portals properly now (you will get into the intended place and dimension). 
If you are ready to download Minecraft PE 1.13.1, use the button below this article.
Be generous and share the good news with your Minecraft friends and leave feedback. 
As a goodbye tip to have even more fun, we recommend you try the fantastic new augmented reality game: Minecraft Earth!  
Video Trailer of 

Minecraft Bedrock 1.13.1
---
17 November, 2019