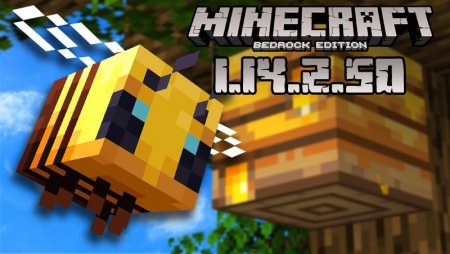 Minecraft for Android
Minecraft PE 1.14.2.50
We bet you didn't manage to check Minecraft PE 1.14.1 and we don't want to distract you from this activity, but we cannot keep such good news to ourselves! There is another game version already available for downloading and this is Minecraft PE 1.14.2.50! After resolving all the problems detected previously, the developers and the most active players detected some more and they required some fixing too.
Fixes in Minecraft Bedrock 1.14.2.50
This time, the MCPE developers fixed the following problems: 
More detected crashes occurring during the gameplay

Classic skins failing to get saved when the player reloads his/her game

Projectiles failing to shoot through gaps between certain blocks (honey blocks)

Continuous bouncing of tridents when being on the sides of certain blocks

Player bouncing continuously whenever he/she is pushed by a piston or a honey block

Bees flying chaotically in and out of their nests when they are on fire
Now, thanks to Minecraft Bedrock 1.14.2.50 you won't have to worry about the above-listed errors anymore.
To download it, click on the button below but don't forget that this is a beta and the builds created in it might be not as stable as those created in full game versions. Also, make sure to keep copies of your previously worlds because this version replaces any MCPE-related work in progress. 
If you are happy about this update, share the news with your friends and leave feedback. 
You are always welcome to our website where you can discover a lot of downloads for interesting maps, textures, mods and more. 
We also recommend you to read the article about Minecraft 1.15, which is an upcoming legendary game update developed around the Nether. 
Video of MCPE 1.14.2.50
---
21 December, 2019