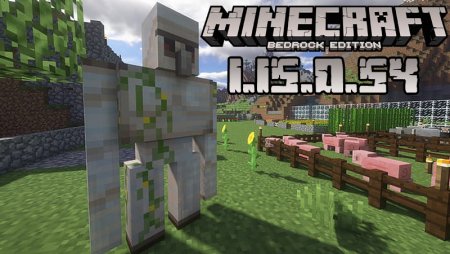 Minecraft for Android
Minecraft PE 1.15.0.54
Dear friends, you had enough time to explore Minecraft PE 1.15.0.53 regardless of the size of its change list and we hope you managed to do this because today we have a new version for you to check and this is Minecraft PE 1.15.0.54.
Unfortunately, this is not a full game version, but another beta, so keep in mind that while trying it, you won't be able to join your friends using non-betas and Realms and that the builds created in it might be unstable, unlike the ones created in a full version.
Anyway, 1.15.0.54 brings a lot of helpful fixes, therefore it is worth trying.
What's new in Minecraft Bedrock 1.15.0.54
From what the Minecraft PE developers let us know, there are eighteen fixes in this beta. In our opinion, the most important ones are the fixes carried out in relation to the teleportation bugs, to the problems of the block loading when traveling between dimensions and to the wrong generation of Strongholds and ocean monuments.
Other fixes:
Fixed crash happening when using the Character Creator
Fixed crash that could happen when moving on certain coordinates
Fixed crash happening when configuring JSON strings in behavior packs
Other gameplay crashes were fixed
The player will no longer teleport to the main island whenever he/she uses the End Gateway.
Fixed a bug due to which Pillager patrols could appear in random locations.
Fixed a bug due to which the player was not allowed to open his inventory after riding on a mount.
Changed the moving animation of the Iron Golem.
Fixed a bug affecting the process of leashing of several tamed mobs.
In addition to the above-listed fixes and changes, the developers also worked on a few minor problems affecting the user interface.
Before downloading and sharing this version with other Minecraft PE players, we recommend you to watch the video trailer; perhaps it will offer more detailed information about it.
If you want to be also up to date with the latest Minecraft PE news, including the newest game versions, follow our website.
Here you will also have the chance to try a very interesting AR game called Minecraft Earth. Download and enjoy it for free! Have fun!
Video of MCPE 1.15.0.54
---
5 March, 2020