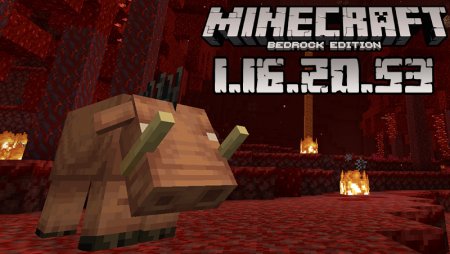 Minecraft for Android
Minecraft PE 1.16.20.53
After the release of Minecraft PE 1.16.1 full version, the developers took a two-week break but now they are back on the track, releasing two new betas in just one week. These are Minecraft PE 1.16.20.52 released only three days ago and Minecraft PE 1.16.20.53 which is the update we are going to talk about today.
Features of Minecraft Bedrock 1.16.20.53
In this version, the MCPE developers had to fix problems affecting not only the players using Android devices but also iOS and PlayStation 4 users.
They have resolved the following issues:
Failure to show recipes in the crafting grid in case none are selected. Now this is possible by hovering over them
Failure to cancel the selection of a recipe from the book if it was previously selected
Failure to see the tooltip name of any recipe selected items when placed in the crafting grid
Recipe Select prompts not popping up if the user hovers over a recipe book item that cannot be crafted
Opening loom blocks making the game crash
Upgrading legacy chunks making them invisible
Impossibility to host more than five players on certain devices
/clear not deleting all blocks as required
New Nether mobs spawning with their bows, swords, and armor unenchanted
Certain trophies not unlocking even if the MCPE user meets all the requirements to get it
Impossibility to remove beehives, bee nests, honeycombs, and honey blocks from the shulker box or ender chest
Bugged trading screen slots.
If you want to try this beta version, go on and click on the download button below the video about it, share the good news with other MCPE users, and leave feedback.
By visiting our website regularly, you can also check the most popular maps, mods, and many more Minecraft PE-related articles, all of them having free download buttons. Follow us and enjoy yourself!
Video of Minecraft PE 1.16.20.53
---
18 July, 2020