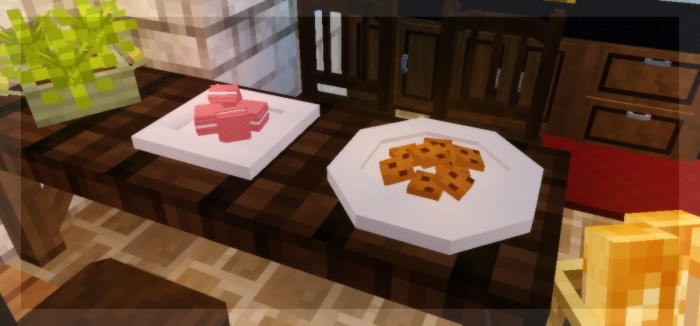 Minecraft Mods
Addon Moondrop: Food! 1.16.200
Our subscribers already had the chance to add different kinds of foods in MCPE by installing Addon FruitsAndVegetables, Addon ManyFoods, and other similar mods. Addon Moondrop: Food also brings a big number of dishes, but they were developed only to decorate our houses, gardens, etc.
Features of addon Moondrop: Food
This addon contains foods for every taste and mood, including sweets (macarons, cakes, muffins, cookies, etc), bakery products (bread, pancakes, etc), milk, jam, and more. All the foods have different variants. For example, you will discover that there are cookies on a tray, on a round plate, and on a square plate. This way you can choose what design suits your home or garden better.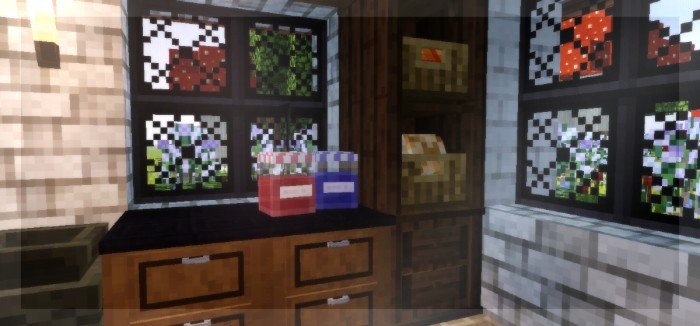 Obtaining the foods is more than easy. You can have one food by typing /Function (wanted food), for example /Function bread. If you want to obtain all the variants of a specific food, type /Function (wanted food)_All, for example,/Function bread_All.
Please mind that you cannot try this addon unless you have installed Minecraft PE 1.16.200 or a later game version.
Important! To be able to use the addon, you should turn on experimental gameplay (holiday creator features, additional moddin capabilities). You should also activate cheats.
For other interesting MCPE-related articles with free download buttons, visit our website, share your favorite ones with your friends, leave feedback, and enjoy your time!
Video Trailer of Addon Moondrop: Food! 
---
18 June, 2021