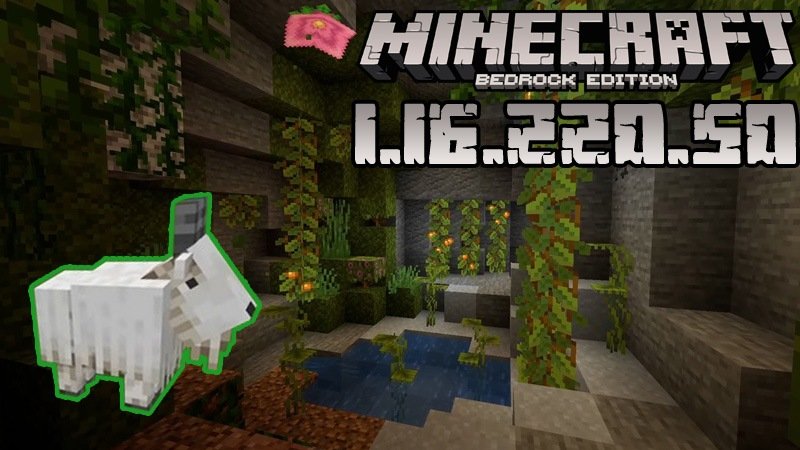 Minecraft for Android
Minecraft PE 1.16.220.50
We are so happy that after two weeks of bad news and poor bugfix lists brought to us by Minecraft PE 1.16.210.60 and Minecraft PE 1.16.210.61 we can finally present a beta that is worth exploring and enjoying! This version is Minecraft PE 1.16.220.50 and in addition to the traditional list of fixes (which this time is longer), it brings the revival of the features that have been previously removed and cool updates for the mountains and for the dripstones.
New mountains in Minecraft Bedrock 1.16.220.50
The most noticeable feature introduced in this beta version is definitely the new Mountain generation. First of all, to make them look and feel more realistic, the Majong team raised the MCPE world height. Now the max mountain height is 256 (the previous max height of the world) and the world height is of 320 blocks and the mountains are not going to generate separately from the Overworld generation. You will discover that several new ores generating in these new mountains and you may also notice that the textures of the already existing ones were improved. Starting with this version, the mountains are divided into five new sub-biomes. With this occasion, the developers switched the spawning place of the goats to one of the sub-biomes, namely the Snowy Slopes. In another sub-biomes you will see another mob spawning, that is the rabbit.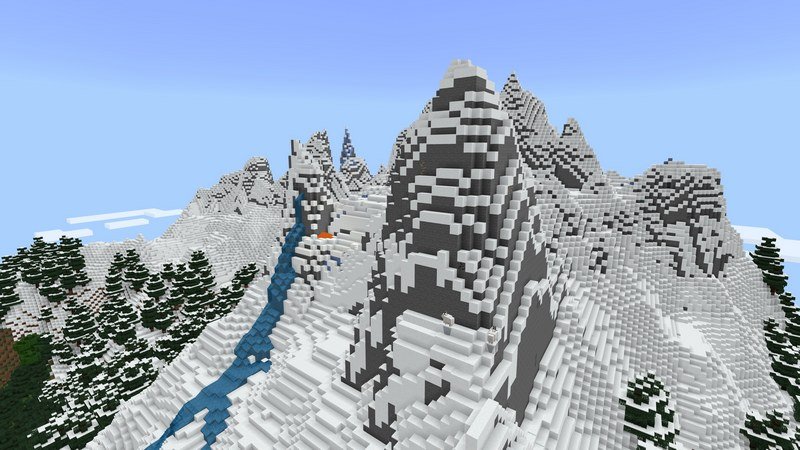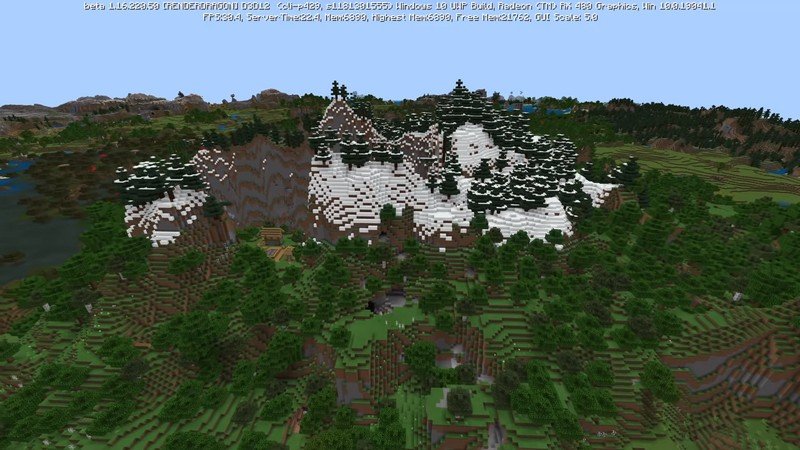 We are sure you can't wait to go traveling in the new mountains, but don't hurry because we have some more good news for you!
Remember the day when we told you that the Glow Squids, Glow Item Frames, and the ability of coloring signs were removed from Minecraft Bedrock? Of course you do, because many of us, the most active players, only started enjoying these features. Well, today you can welcome them back! Their characteristics are described in the article about Minecraft PE 1.16.210.59 and in addition, the glow squid will emit special particles whenever it gets hurt and its model looks correct.
You may think that the MCPE developers worked enough for one beta, but let us surprise you: this is not all. We also mentioned that the dripstones were improved too. Many players noticed serious things not making sense about these blocks, for example that if a player jumps on a stalagmite, he/she can lose a health heart or that when it is held, the pointed dripstones have a wrong size. Well, these and other problems affecting the dripstones have been successfully fixed.
The MCPE developers also fixed a big number of technical errors and other problems affecting the gameplay. The most noticeable of them were:
A crash happening as a result of attempts to rename maps on anvil, but only when the second slot is not empty, for example when the user places a dye there
Powder snow blocks being placeable on spots containing other blocks
Glowing texts not working on Mobile devices
Shields being attached to the neck instead of the hand of some mobs, for example, pillagers, husks, and zombies
Projectiles getting stopped by structure voids
Players that are visitors not dropping their inventory upon death
Marketplace "Results" screen not updating as it should when switching between screen sections
Text-to-speech not reading the correct text when VR is used
Villagers behaving weirdly when sleeping on beds that are placed next to walls. They used to just pass through those walls.
Command /execute disregarding the dimension of the target and considering only this target's coordinates
Title commands showing the % symbols twice when in the title Text parameters when they are used
Dear subscribers, to find out more about this beta version, watch the video trailer below. After that, you can install it, but be generous and share the article with all your friends, and leave feedback.
As we told you many times, you will always find out about the latest game versions and about the newest and most popular MCPE-related surprises by following our website. Our target is to make you enjoy your time!
Video of MCPE 1.16.220.50  
---
6 March, 2021