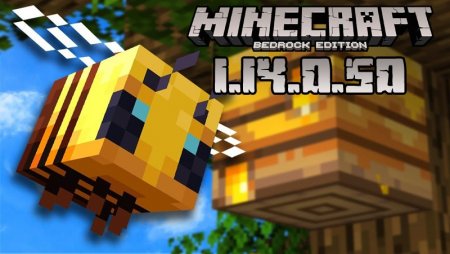 Minecraft for Android
Minecraft 1.14.0.50
This Sunday is full of surprises for our subscribers. We published articles, not about one or two, but about three brand new Minecraft Bedrock versions. These are Minecraft 1.13.1, Minecraft 1.14.0.6, and the one presented here, which is Minecraft 1.14.0.50! All of these versions were developed to improve the gameplay as well as to fix some of the detected crashes and bugs, but since we already know about the previous ones from the other articles, we will talk about the changes in 1.14.0.50.
Before getting started, we must prevent you that this is not a full game version, this meaning that some builds created in it might not be very stable. Anyway, it is always a good idea to back up your work if it is important for you because betas do not have the same quality as the final game versions. 
Fixes in Minecraft 1.14.0.50 for Android
The main fixes carried out in this beta are, as always related to the game crashes, this time affecting mostly the Xbox One users.
The MCPE developers also fixed several in-game minor problems, most of them being detected by no other than the most loyal players. These are:
Sugar cane breaking is a water source near it is waterlogged

Leashed bees stinging players more than just once, like it was initially mentioned in Minecraft PE 1.14.0.1

Milk buckets playing the animation continuously when the "use" button is held down

Not being able to use milk buckets for cooking cakes

Players not being able to use custom buckets when milking cows.
These problems might seem ridiculously minor, but by fixing them, the gameplay becomes more comfortable anyway. 
And now it's time to get to the cherry on top: fixes made in regards to the Character Creator. The size of the skins was modified so they do not create problems when playing on servers, the skins that don't roam to Minecraft Earth (an absolutely fantastic AR game you can download on our website) are not tagged as being usable anywhere in the Character Creator. Equipped capes are now displayed every time, even when you decide to exist and enter into the Character Creator again. Equipping the Founder's Cape will be applied right away, without having to restart Minecraft PE. 
Now that you know what this mini-version has to offer, you can watch the video trailer below, install it by clicking on the download button, share it with all your friends and leave feedback. 
While the beta is loading, we recommend you to check the most interesting maps, mods, and texture packs in order to decide how to spend your ongoing weekend having fun! 
Video of Minecraft Pocket Edition 1.14.0.50
---
17 November, 2019