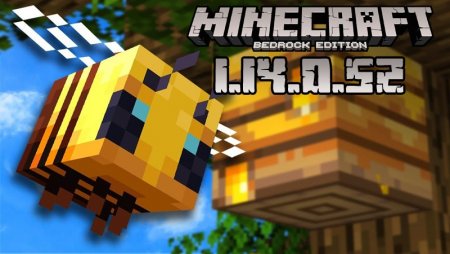 Minecraft for Android
Minecraft 1.14.0.52
Here is another beta, which is Minecraft 1.14.0.52 with its changes and fixes that bring us nearer to the release of a full game version. Just like in the previously presented betas (Minecraft 1.14.0.50 and Minecraft 1.14.0.51), there are not very many changes, but the ones carried out will help us have smoother gameplay and a more pleasant MCPE experience. 
List of changes in Minecraft Bedrock 1.14.0.52
Actually, there is just one change brought to us by this beta and this is the bees becoming angry wherever a baby bee is being attacked. The rest of the version was developed around several detected issues. These are: 
Crashes occurring sometimes when players sign on Xbox Live and every time after upgrading MCPE on Xbox devices

Incorrect view bobbing when the player looks North or South

Some items disappearing after being crafted

Disappearing milk from the milk buckets

Textures breaking if the player disables the Resource Packs

Players getting stuck in the inventory screen when trying to leave it in the Marketplace

Low game performance in areas where many users play at once

Several Character Creator items being displayed incorrectly 
All the above-listed issues were resolved and now the Xbox One, Android and Windows 10 users can enjoy their gameplay to the max, or at least without getting annoyed by them. 
To start checking it, click on the download button, but first watch the video provided below. It will tell more about the present version and its features. 
If you decided to try it, be generous and share this article with your friends so that they can enjoy it too. 
We would also appreciate if you would leave feedback to let us know what you think about this release. 
Like we mentioned in the beginning, a full game version release is going to happen soon (hopefully), but if you want to look even further, we recommend you to read the article about Minecraft 1.15, a version that is planned for the beginning of 2020! 
In addition to this, you will find a lot of helpful and interesting downloads for the newest maps and mods by visiting our website. 
Have a good time! 
Video Trailer of MCPE 1.14.0.52
---
28 November, 2019