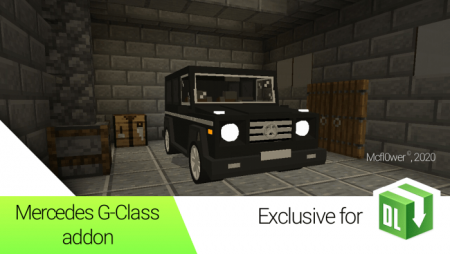 Minecraft Mods
Addon Mercedes-Benz G-Class 1.13
Everybody dreams of becoming the owner of a luxurious beautiful car, but this dream is not exactly easy to realize, but since everything is possible in Minecraft PE, we will give you the opportunity to get one of the most expensive cars in the world for free. This possibility is given by Addon Mercedes-Benz G-Class.
Features of addon Mercedes-Benz G-Class
Mercedes-Benz G-Class, also known as G-Wagen is a mid-sized luxury SUV. The price of such cars is quite high, but thanks to this addon, you can drive it for free in your MCPE world.
The car you will get has two seats, so if you don't like driving alone, you can always invite a friend to keep you company in your trips.
The car's wheels are animated and we must admit that it is very speedy and a pleasure to drive.
To get this fantastic automobile, use command /summon mercedes:gclass_black.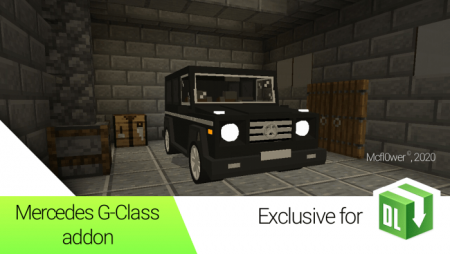 Are you ready to try the Mercedes-Benz G-Class? Hit the download buttons below this article, share it with other Bedrock users, and leave feedback.
If you want to try other MCPE cars, we also suggest you try Addon Cadillac Escalade and Addon VAZ 2105.
Visit our website and among the big diversity of cool MCPE-related articles with free download buttons, you will also discover the latest game versions, Minecraft PE 1.16.100.58 being the newest one. Have a good time!
---
2 October, 2020